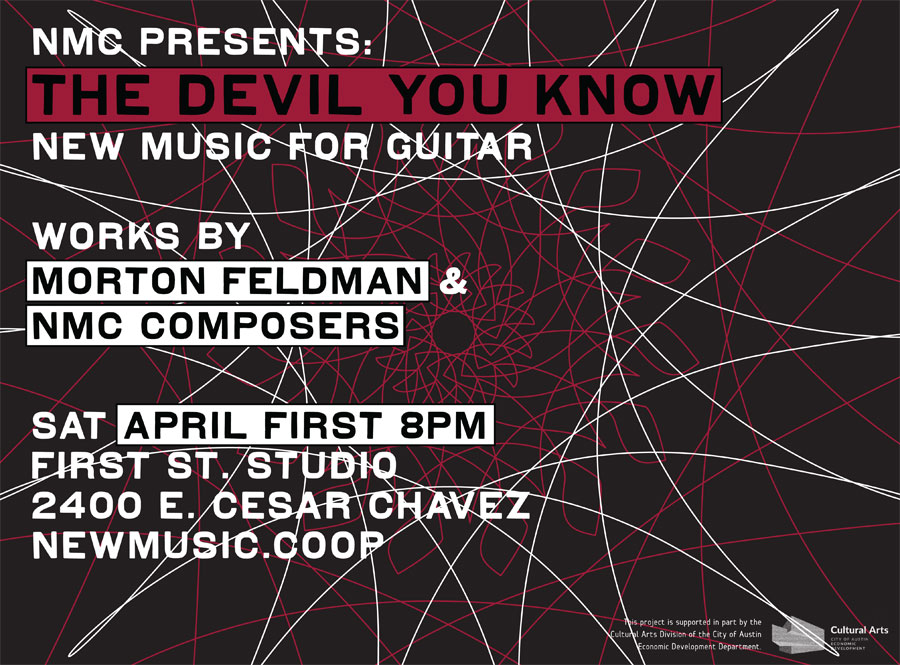 Austin New Music Co-op Presents:
The Devil You Know - New Music for Guitar
NMC Presents: The Devil You Know
New Music for Guitar
Saturday Apr. 1st 8pm
First Street Studio
2400 E Cesar Chavez St, Austin, TX 78702
Advance tickets available now at http://thedevilyouknow.eventbrite.com
$10 student/advance and $12 at the door
The guitar is remarkable for its ubiquity, especially here in Austin where almost all live shows feature at least one. To musicians and audiences, its sound is as comfortable and familiar as a favorite pair of shoes. And while past NMC programs have included the guitar, it is a relative rarity in the work we present. When a guitar does show up on our programs, it tends to avoid its usual well-trodden path. For example, the piece we commissioned from Arnold Dreyblatt features a custom guitar with a built-in sustainer fretted in the composer's own microtonal scale. This April, we'll give this old familiar friend its due by presenting our first program with the guitar as the focus.
About the Program
We are excited to feature a piece by New York School composer Morton Feldman: "The Possibility of a New Work for Electric Guitar." The piece was written in 1966 for Feldman's colleague Christian Wolff. Feldman described it as "an attempt to write a piece for electric guitar which could overcome the instrument" by producing sounds that don't sound like an electric guitar. The piece was thought to be lost when the score was stolen along with Wolff's guitar case a year later in 1967, but was rediscovered in 2007. Also on the program are three new works from co-op composers. Brent Fariss' "Trio for guitars" is an intensely quiet soundscape of acoustic tones. Travis Weller's 2001 piece "Stinkbug," for two electric guitars, bass clarinet and percussion dates from the early days of NMC. "Plaques and Tangles," for three electric guitars, by Andrew Stoltz, uses the body and re-tuned strings of guitars in a percussive way. All four pieces on the program take the instrument in different directions. As a whole, they promise to lead our audience down through the backroads of guitar music.
A note about Malcolm Goldstein
You may have seen our "save the date" message about presenting violinist Malcolm Goldstein on April 1st. Mr. Goldstein has had to cancel this and other upcoming performances due to a health issue. We wish him the best on a speedy and complete recovery.
This project is supported in part by the Cultural Arts Division of the City of Austin Economic Development Department.