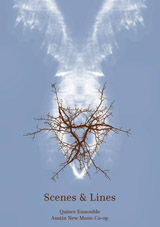 Friends,
Thanks to all who came out to our "Time Capsule" performance last Saturday. Now that the dust has settled, we'd like to invite you to celebrate NMC's second CD release, entitled "Scenes & Lines."
Scenes & Lines CD Release Event
Tuesday Sept 26th 8:00pm
1010 Willow St.
Austin TX 78702
Free admission (donations accepted)
We recorded four pieces in May of this year that premiered on our 2016 collaboration with the Quince Ensemble (www.quince-ensemble.com), and we couldn't be happier with how they came out. The works by Brent Fariss, Laura Brackney, Travis Weller and Andrew Stoltz cover a broad range -- blending novel and traditional instrumentation with the three exceptional voices of Elizabeth Pearse (soprano), Kayleigh Butcher (mezzo soprano), and Carrie Henneman Shaw (soprano).
For the release event, we'll feature performances by composers involved in the CD release as well as Francois Minaux's ensemble "Leaf Chimes." We will, of course, have copies of the new CD, complete with letterpress printed artwork.
Hope to see you there! NMC
ps. If you can't make it out to the concert, you can still purchase the CD online starting on Sept 27th at http://willow.st/scenesandlines/
This project is supported in part by the Cultural Arts Division of the City of Austin Economic Development Department.