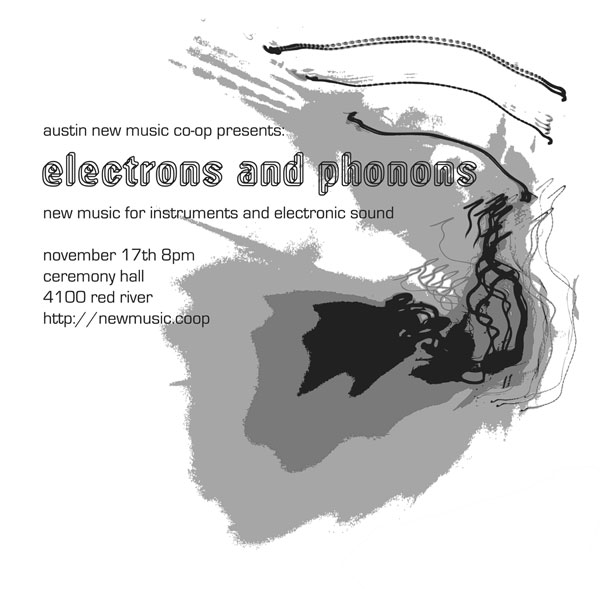 Electrons & Phonons
Austin New Music Co-op presents "Electrons and Phonons," a fusing of instruments and voice with and cutting-edge (and classic) electronic technology. The concert will feature seven new compositions by Austin composers plus a special demonstration of a rare vintage synthesizer by electro-acoustic composer Rick Reed.
NEW MUSIC CO-OP PRESENTS:
ELECTRONS & PHONONS
New Music for Instruments and Electronic Sound
Saturday, November 17, 2007 - 8PM
Ceremony Hall - 4100 Red River
TICKETS: $10 IN ADVANCE AT END OF AN EAR
$10 AT THE DOOR

On November 17th, New Music Co-op will present Electrons and Phonons, the second annual concert showcasing new musical compositions for electronic and electro-acoustic instruments. The program includes works by eight Austin-area composers, and features found-sound objects, custom instruments, video projection, and live electronic manipulations of instruments and voice.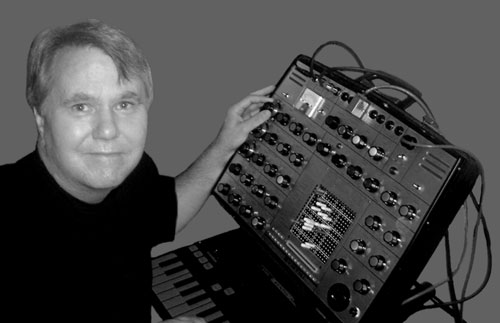 Some of the highlights of the program: Rick Reed demonstrates a vintage Synthi AKS synthesizer, one of only 800 ever produced; Travis Weller presents a composition for electronics, percussion and his hand-built instrument, the Owl; Alex Keller presents a piece for electro-mechanical drum; Kirk Laktas and Doug Ferguson perform on found objects. Also featured on the concert are works by Bill Bridges, Greg Headley, Keith Manlove, and Christopher Petkus, with performers Brent Fariss, Brandon Young, James Alexander and Josh Ronsen.
November is Electro-Acoustic Music Month, an effort by SEAMUS (http://www.seamusonline.org/) to raise awareness of this musical art form through an international series of programs, concerts, lectures, radio broadcasts, and open houses. Each event is locally organized and produced, while SEAMUS provides a context for the events through EAMusic Month. This is the second year that the New Music Co-op has presented a concert as part of Electro-Acoustic Music Month.
About Austin New Music Co-op
The Austin New Music Co-op is a community of composers and performers dedicated to increasing awareness and understanding of new music. Since 2001, the NMC has presented a wide range of innovative and compelling new works and created a unique environment for collaboration and the exchange of musical ideas. In its history, NMC has presented over 30 concerts and commissioned over 50 new works. Some notable New Music Co-op concerts have included John Cage's Songbooks, a program featuring the extinct instruments of Luigi Russolo, Pauline Oliveros' Four Meditations for Orchestra (with the composer in attendance), a three-day series of the works of the New York School, Terry Riley's In C, and the commission of a program length work by renowned composer Arnold Dreyblatt. New Music Co-op members come from highly diverse backgrounds, from classical performance to electronic music to formal composition to rock bands. The group runs by consensus, and gains its strength from its members' varied experiences and interests. The New Music Co-op is a 501(c)(3) non-profit organization, and all donations to the group are tax-deductible. This project is funded and supported in part by the City of Austin through the Cultural Arts Division and by a grant from the Texas Commission on the Arts and an award from the National Endowment for the Arts, which believes that a great nation deserves great art.