Rock Music
AUSTIN NEW MUSIC CO-OP PRESENTS "ROCK MUSIC:" INSTALLATIONS AND PERFORMANCES USING ROCKS AND STONES
Join the New Music Co-op in exploring the sonic possibilities of natures most commonplace objects in a two-part presentation featuring sound installations by local composers and visual artists followed by performances of works by Jon Gibson, Pauline Oliveros, Christian Wolff, Charles Wood, and local composers.
SATURDAY, DECEMBER 6 2003
Installations open from 4:00 to 8:00 PM
Concert at 8:00 PM
CEREMONY HALL AND THE GROUNDS AT 4100 RED RIVER
FREE ADMISSION TO THE INSTALLATIONS (DONATIONS ACCEPTED)
$7 ADMISSION TO THE CONCERT AT THE DOOR

Austin, TX - The New Music Co-op continues its series of innovative performances with a program devoted to music created using rocks and stones. Works to be performed include Pauline Oliveros' "Rock Meditation," Jon Gibson's "Ambient Densities," and Christian Wolff's "Stones." Also on the program is Charles Wood's "Nothing Lives Long Only the Earth and Mountains" for a quartet of sandpaper blocks, each using a different grit of sandpaper. In keeping with their emphasis on creating and performing new works, the NMC will present four new pieces by member composers. The NMC performers participating in this concert are also active in many of Austin's New music projects such as Cinders, Barbwire Music Project, Frequency Curtain, The Golden Hornet Project, Gates Ensemble and the Imbroglio String Quartet. Program length will be roughly 90 minutes.
The installations preceding the concert will explore the sights and sounds of rocks and other natural materials in their natural environment. Rocks will be played on phonographs as records, resonated on drum heads, and frozen in blocks of ice for some of the seven installations on the grounds adjacent to Ceremony Hall. Featured artists include Rick Reed, Josh Ronsen, Brent Fariss, Kirk Laktas, Holland Hopson, Bill Thompson, Alex Keller and Douglas Ferguson. The audience is invited to experience the installations at their own pace between 4:00 and 8:00 PM.

Holland Hopson's Installation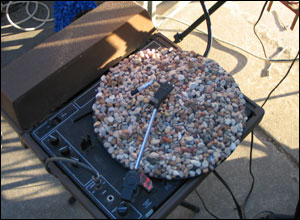 Rick Reed's Installation
NMC Members also appeared on "Expressive Movements" KOOP 91.7 Friday December 5th from Noon-2pm.